AUTOMATIC CO2 FLOODING SYSTEM
---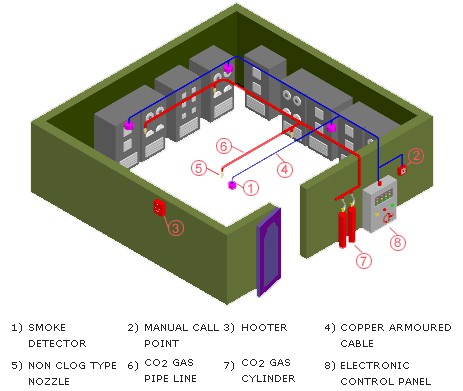 Function of the System
We are engaged in offering CO2 Flooding Systems. This type of fire extinguishing system consists of high-pressure cylinders or low-pressure tanks containing carbon dioxide (CO2) agent under pressure, connected to fixed piping and nozzles. The systems are used for total flooding of a volume or for local application.
Carbon dioxide is a colourless, odourless, nonconductive gas that extinguishes fires by smothering. Since carbon dioxide is electrically nonconductive, it is frequently used for protection of electrical equipment. Because it is a gaseous agent, it is further suitable for fires in electrical and electronic equipment, as well as flammable liquids.
Where the hazard being protected is enclosed in a room, total flooding systems are provided. Where there is no enclosing room for the hazard, local application systems are used.
This system can also be incorporated with Smoke Detector.
Types of hazards and equipment that Carbon Dioxide may satisfactorily protect include :
Paint Booth
Battery Rooms
Flammable Storage
Engine Test Cells
Printing Presses
Solvent Recovery
Record Storage
Under-floor Areas
Fur Storage Vaults
Dust Collectors
Coating Machines
Ovens
Dip Tanks
Motors
Electric Generators
Coating Machines