FIRE ALARM & DETECTION SYSTEM
---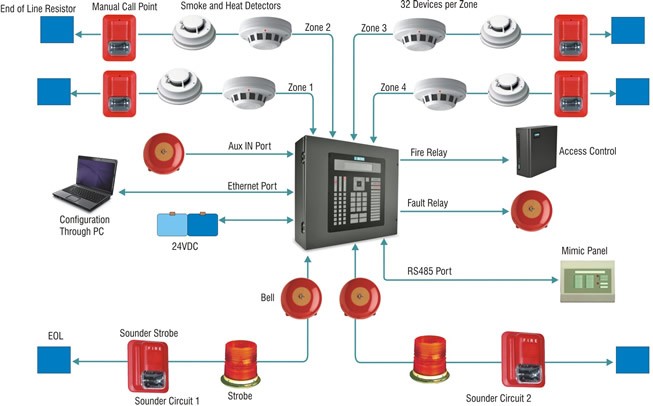 AUTOMATIC FIRE ALARM WITH SMOKE DETECTOR SYSTEM
Conventional type, micro-processor based, semi addressable type, Fully Addressable Type Fire Alarm System. All as per LPCB, UL, FM, BIS Standard. Fire detectors are designed to detect one or more of the three characteristics of fire – smoke, heat and flame. Besides that, every fire detection system must include manual call point (break glass), so that in the event of fire, help can be called immediately. During a fire, activation of an alarm sounders or bells is to arouse the attention of the occupants so that evacuation can be carried out without causing harm to the occupants.
The system is equipped with multiple zones for different area protected.
The system operates on 230volt A.C. mains & in-case of failure of power it will switched on automatically to battery back-up provided.
In case of fire/smoke, reaching to detectors in any of the zone , to any of the detectors hooters installed in all the protected area & common siren can be located at the main gate(security cabin).the indication can also be transmitted to repeater panel located at any remote place.
The panel indicates the area affected by fire/smoke with audio-visual indication & follows the prescribed firefighting exercise.
We can offer conventional as well as addressable fire Alarm System with the control panel to give audio visual Signal.
The system for computer Rooms, Offices. Hotels etc can also be offered.
A sample of fire detection and alarm system installation is shown as below.