SAVIOUR ANCHOR POST FOR CONTAINER
---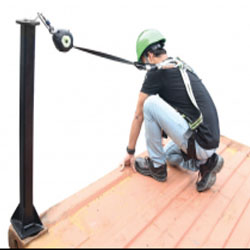 Container Anchor post is meant to provide a temporary anchor for working on top of 20 ft & 40 ft shipping containers.
In addition to be used as a stand alone anchor post, it can also be used to form a horizontal life line over the top of container depending upon the requirement of work to be done.
Comes with a side lock & tag line arrangement for secure installation by one person only.
Can be removed without damaging the container.
Has an anchorage allowing a 360° rotation.
Two Post can be also erected and can used as temporary lifeline for 2 to 5 persons.