DAVIT SYSTEM
---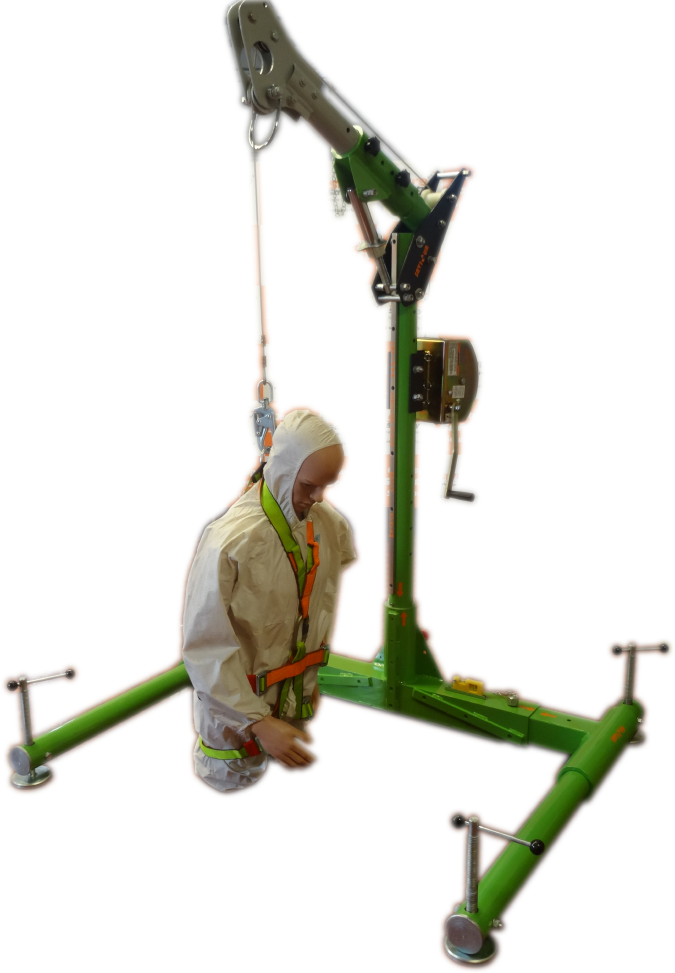 Four Piece confined space system with 50 feet winch, Designed for manhole and confined space entry/retrieval and fall arrest applications
System breaks dowm into lightweight aluminum components for easy storage, transport and set-up. No tools reqierd for assembly.
Modular design allows the use of various fixed and portable bases and an optional mast with extensions. Multiple winches and/or lifeline systems may be mounted as required.
Suggested Application:- Public Utilities: Vault and manhole entry, pump/lift/valve, Pulp & Paper): Elevated manhole, storage tanks, platforms/mezzanines, underground vaults, clarifier tanks, pre-heaters.
Compliance
200Kg Load Test Certificate
Length
FALL ARREST SYSTEM
---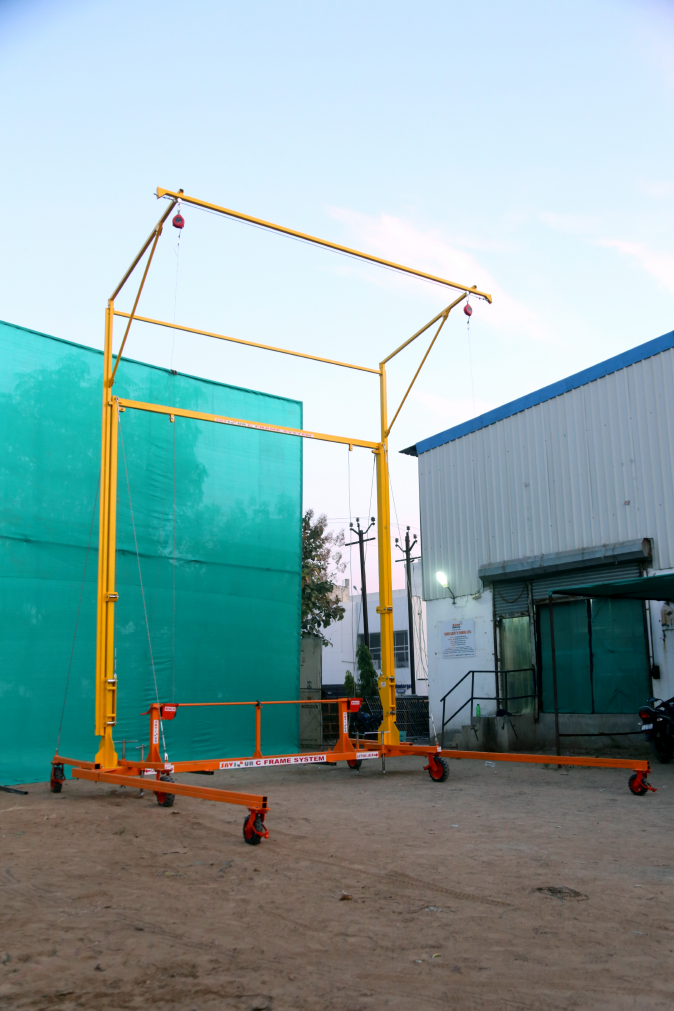 The Fall arrest system with fall Protection combines ease access to elevated work areas with fall protection from the ground for the duration of the work being performed like truck loading and unloading
The system includes a height adjustable horizontal rail and two trolleys that can be moved to any position along the rail.
The trolley serve as attachment points for the anchorage of a Fall Arrest System (FAS).
The system can be moved by hand.
Applications
During operation of material handling from truck loading and unloading.
Working at height job like maintenance etc or standing on ladder more than height of 3 meters.
Advantage
Easy to move from one place to another.
Easy and compact design for easy installation..
Sturdy and withstand up to 200 Kgs.
Special Features
Two person can use this system.
With anticorrosive powder coating for long life..
Easy to install.
360 degree rotating and lockable wheel.
Adjustable height from 5.5 meters to 8.2 meters
Heavy and sturdy wheels.
SIDE ENTRY SYSTEM FOR CONFINED SPACE/RETRIEVAL
---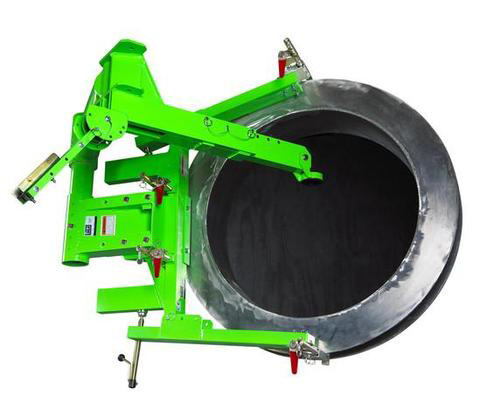 Saviour Side entry system is used during vessel entry job where the space is less.
This system can installed on the manhole flange with the help of three rubber coated spring loaded clamp provided with the main frame for grip.
Install the winch on the extended boom where the installation plate is provided.
After set up of location of moveable boom tight the spring loaded clamp provided on the side support.
It is consists of following part:
Rotating and Adjustable mechanical device.
Extendable arm.
Winch with handle.
Applications
Manhole vessel Entry during maintenance, vessel cleaning job.
Rescue Operation.
Can be use vertical and horizontal vessel entry job.
Advantage
Light in weight.
Easy and compact design for easy installation.
Sturdy and withstand up to 130Kgs.
Special Features
Single person can install this system.
With anticorrosive powder coating for long.
Easy to install.
SAVIOUR ANCHOR POST FOR CONTAINER
---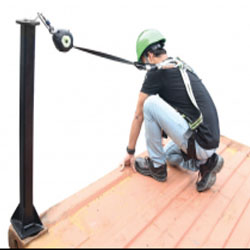 Container Anchor post is meant to provide a temporary anchor for working on top of 20 ft & 40 ft shipping containers.
In addition to be used as a stand alone anchor post, it can also be used to form a horizontal life line over the top of container depending upon the requirement of work to be done.
Comes with a side lock & tag line arrangement for secure installation by one person only.
Can be removed without damaging the container.
Has an anchorage allowing a 360° rotation.
Two Post can be also erected and can used as temporary lifeline for 2 to 5 persons.
SAVIOUR WINDOW / DOOR ANCHOR
---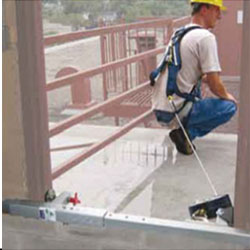 An innovative door / window jamb anchor which installs in seconds, providing a fast, simple and safe attachment point for your fall arrest system.
Applications
Residential & commercial construction
Rooftops with door entrances.
Lift shafts
Wall openings
Emergency egress & rescues
PORTABLE HORIZONTAL LIFE LINE
---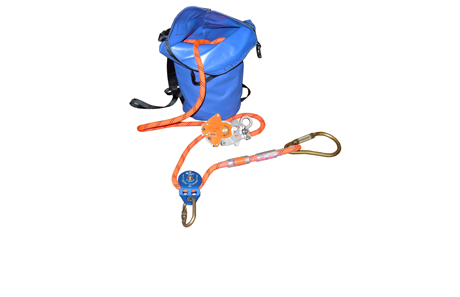 Temporary Horizontal Life Line fall (HLL) arrest system; rapid to install.
Technical specs: Maximum system lenght (span): 25 meters , Maximum: 5 users Maximum End Load: 7,7 kN , (with 5 users & 25 meters span) , Rope: 16 mm kernmantle
Compliance
TRIPOD WITH WINCH
---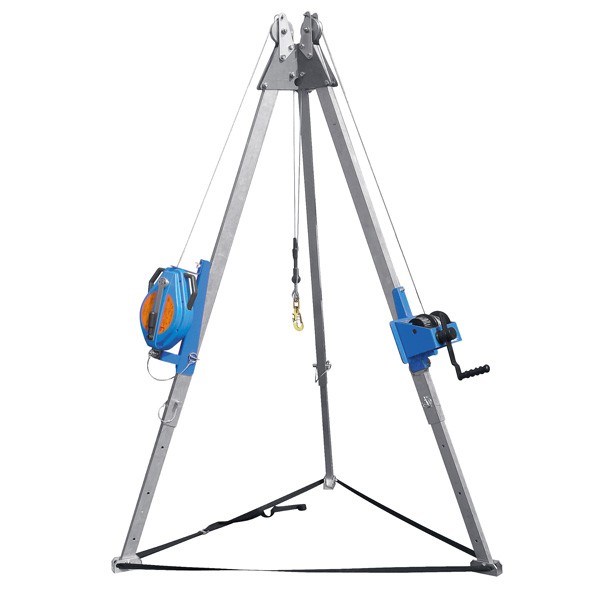 Tripod with winch of 25 mtrs Designed for durability and light weight, the tripod is easy to set up and transport by aluminum section tripod. Cast Aluminum Head has an integral Stainless steel Pulley to accommodate a winch with quick mount bracket.
Compliance
Length
Cable Length
Max Height
Usable load Capacity
Meets the Requirements