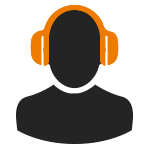 If you're searching for Ear muffs, then this post is for you. We are among the best-in-class manufacturers and suppliers of these products. We also hold specialties in such products. We deal in durable and high-quality products from different industries, as per the products.
Wearing proper hearing protection can signify the difference between experiencing the sounds of your regular life and disability for a lifetime. On a daily basis, we are open to potentially harmful environmental noise.
And the situation becomes critical for the workers, who are present in areas of the high noise level. We have a huge range of ear muffs for men from which our male customers can choose their most suitable ear muffs.
Moreover, they are always in search for the top-notch ear muffs or plug protector for alleviating the noise level to an allowable level. It's very important to consider some key factors that you must take into account while selecting the appropriate ear muffs for your job.
First, you need to determine your noise level. The main goal here is to offer a sufficient attenuation but not that much to overprotect the wearer. It's very important to understand the respective whole-shift noise exposures and opt for proper ear muffs depending on that exposure.
If you're suffering from hearing impairment, then you might already have issues understanding speech within noisy environments. And so if you opt for hearing protectors with the highest attenuation, you might find it even tougher to hear warning alarms or to communicate.
Is your exposure time lower than four hours? The protection level for ear muffs depends on noise exposure over the eight-hour duration of the working day. So, if the exposure is short in length, you should opt for a lower protection level. If you have to hear vital information from your colleagues or need to hear warning signals, then you should select a lower protection level or make use of an electronic level dependent ear muff.
Selection of the style of Ear muffs is also an important aspect. If your workplace needs you to wear a hard hat, then you can go for a cap-mounted ear muff. Don't forget to ensure that the hard hat that you're going to choose holds universal slots and it can be used in amalgamation with the chosen ear muff.
If you need to use a bump cap or hat for having sun protection, you should opt for neckband ear muffs throughout the back of your neck so that users can easily wear them with bump caps or full-brim hard hat or the hats that don't have attachment slots.
We have a huge collection of ear muffs for women and so if you're a woman and looking for some best-in-class ear muffs, our online store should be your ultimate destination. We'll help you in finding the most suitable ear muff for you.
If you're working with tedious work tasks and also have to hear warning signals and so on, you need to choose an ear muff with both AM/FM radio plus a level-dependent hearing function.
It's a high time to make a wise decision and take a visit to our online store. Select the most appropriate ear muffs for you and rest assured! We're there to help you throughout your purchase. So, when you need to buy earmuffs online, you should look no further than us.